What is a Vernal Pool?
Vernal pools are unique wetland habitats that fill up with water in the fall, winter, and/or spring, and hold water for several months before drying up in most years. A group of amphibians ("obligates") breed and develop only in vernal pools. In Connecticut six of these amphibian species have been assigned a rarity classification by the Department of Environmental and Energy Protection:

Natural Diversity Database (Listed) Vernal Pool Amphibians

​Species of Greatest Conservation Need (Designated "Important")

​Examples of "Facultative" Species that Feed or Breed in Vernal Pools
Why are Vernal Pools and "Obligate" Amphibians at Risk?
For lots of reasons. Many pools have been filled in over the years, either intentionally or through carelessness. The water quality of other pools has been impacted by untreated storm water runoff. And development around many vernal pools has eliminated the upland habitat
where the "obligate" amphibians spend most of their lives.​
​How are Vernal Pools Important?
Vernal pools and all of the life that they support are part of Connecticut's natural heritage.
For many people it is important that vernal pools and the life they support will be around for future generations to marvel at.
Although typically small, vernal pools support the food web of a large surrounding landscape through all of the amphibians that emerge from their waters, and which are fed upon by many predators.
What Can I Do to Help Protect Vernal Pools
To start, get to know them!
Visit them across the seasons.
Marvel at their beauty and uniqueness.
Learn more about what makes them so special.
Voice your support for vernal pool protection and conservation in your community.
You can learn more about vernal pools here:
https://www.naturalheritage.state.pa.us/VernalPools.aspx
When to visit a vernal pool
​Whether you visit a vernal pool in spring, summer or fall, surprises await!

​​In the spring you may find adult amphibians, or their recently laid egg masses, in the water.

​In the spring you may also find:

By summer, the eggs have hatched, and the amphibians become larvae, and begin the process of metamorphosis.

​In the summer most vernal pools slowly dry up. If you visit a vernal pool in the middle or late summer you may be lucky enough to find juvenile amphibians that recently emerged from the pool.
How to visit a vernal pool "gently"
Vernal pools are very sensitive ecosystems that can be impacted by a careless visit. To avoid this, please follow these simple guidelines for a "gentle" visit:
Wear polarized sunglasses, if you have them. They cut down on glare, and make it easier to avoid stepping on an egg mass or a critter. Either way, watch your step!
If you choose to enter the pool, wade in the very shallow waters along the shoreline. Most pool life can be found there. Do not wade in the deeper parts of the pool.
You can also explore a vernal pool without getting your feet wet! Simply walk along the dry shoreline to look for critters, or pull your net through the water to see what you find. You can place collected critters in a clean bucket or tray for closer examination. Always return all organisms to the pool, never bring them home.
Be careful to not stir up the water in the pool, causing turbidity. All of the animals in the pool extract oxygen from the water, and turbidity interferes with this process.
Do not allow any bug spray or suntan lotion to enter the pool water, they can impact amphibians.
Watch the video in this website to learn how to decontaminate boots and equipment before and after visiting a vernal pool: https://www.vernalpool.org/decontamination
Carry out whatever you carry in during your visit. If you see any garbage along the way, carry it out.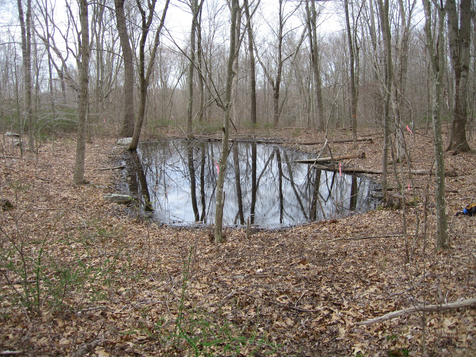 Safety tips for your vernal pool visit
Roll your socks up over your pant legs. This will make it more difficult for ticks to bite you.
Wear light-colored clothing, and preferably long pants and a long-sleeved shirt or jacket.
Check yourself for ticks when you get back to your car.
Walk carefully in the forest. The ground is often uneven, and it is easy to trip on exposed logs and rocks.
Visit this website for more safety information: https://www.fs.fed.us/recreation/safety/safety.shtml
NOMINATE A VERNAL POOL FOR THE PROGRAM
Have a vernal pool(s) you think others would appreciate seeing? We'd love to know about it and potentially add it to our database. Please take a few minutes to fill out this
Nomination Form.
We will review the information you provided and let you know if the pool can be included in the Visit a Vernal Pool program.
And thank you for your interest and support.